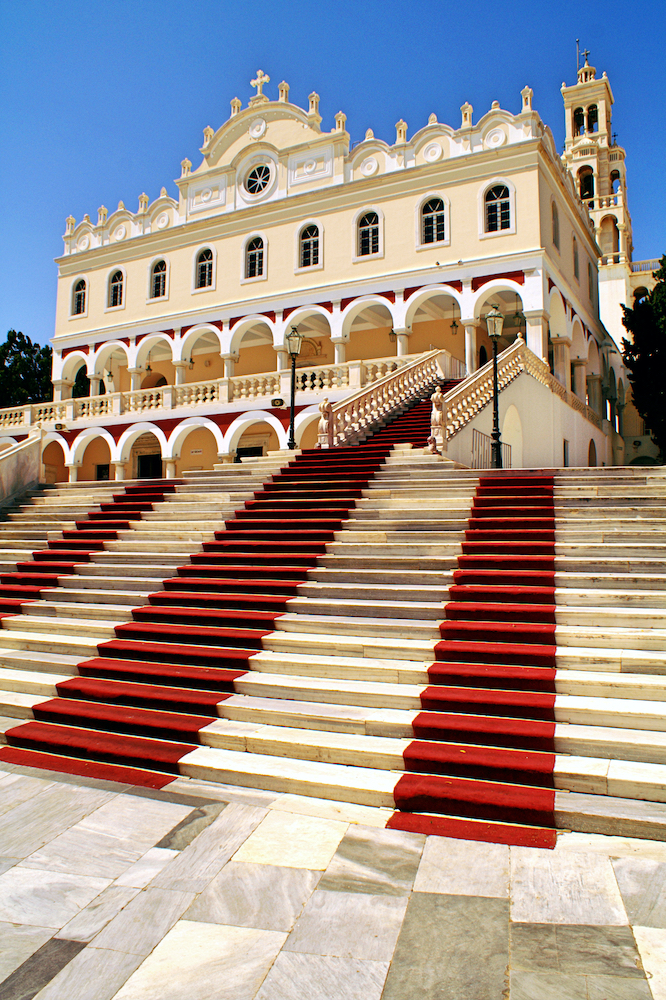 A gem of hospitality, serenity and stunning unspoilt villages and beaches
Tinos is by far the most popular destination for Greek tourists who come to visit Tinos Town, location of the famous Neoclassical Church of the Panagia and the miraculous Icon of the Virgin Mary located therein. From the expansive main waterfront of Tinos town, lined on the one side by a myriad of cafes, taverns and shops and on the other by yachts and excursion boats, two streets lead up to the church, in turn lined with shops and stalls selling all manner of souvenirs and devotional articles. But there is more to Tinos Town than the church. A sandy, town beach is about 500 metres away, and one can browse the local farmers' market in Pallada or seek out a trinket or two at Tinos flea market. Tinos Town is noted for its cuisine, so "foodies" will be in their element with many taverns and restaurants offering quite outstanding fare.
However, those committed to a longer stay will probably prefer to holiday in our accommodation located in the Porto area, a 15 minutes' bus ride or a 10 minutes' drive south east of Tinos Town. Porto's coastline boasts three consecutive stretches of sandy beach commencing with Agios Sostis, then Skilandari and finally Porto beach itself. Excellent accommodation, a mini-market and a handful of taverns are the extent of development here although we did notice some beach loungers and umbrellas on our last visit! Coastal walks in this region are superb with the pristine sand of Pachia Ammos about 55 minutes walk to the north east.
The beautiful village of Pyrgos with its shaded main square is top of most visitors list. Located right in the middle of Tinos' marble-quarrying district, the village is home to local artisans renowned throughout Greece for their skill in sculpting marble. One can visit the numerous marble workshops and sculpture studios in the village as well as the magnificent new "Museum of Marble Crafts.